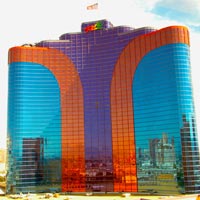 Poker Rooms - Rio Suites & Casino:

Tradition dies hard at Rio Suites and Casino. The traditional elegance of ages gone by still persists in the spacious and luxurious suites of this gracefully appointed hotel and casino right in the heart of Las Vegas. With more than 2,500 suites, each providing incredible vistas of the city and the famed Las Vegas strip, the Rio can accommodate thousands of guests. However, with their reputation for impeccable service, each guest feels like a VIP. The suites include more than six hundred square feet of luxury accommodation, including separate areas for sleeping, dining, and relaxing, as well as an in-suite refrigerator, dining table, and 32 inch television. With the Rio, everything is classy and modern, simultaneously.

Gaming at the Rio is a spectacular experience for the most seasoned player or the greenest novice. The casino floor, measuring in at over 100,000 square feet of exciting gaming excellence, is absolutely state of the art. Worried you won't find your favorite game at the Rio? Think again. With hundreds of different ways to play and win, the Rio is sure to offer you favorite slots or table games, and while there, you are sure to find a new favorite as well.

As the popularity of poker has grown by leaps and bounds, Rio has stepped up its poker capacity to match the craze. At the Rio, poker players can enjoy Texas Hold 'Em and Seven Card Stud as well as Omaha. And the dealers in the Rio Poker Room will spread any game that visitors desire. Action packed game play and limits from the lowest to the highest around: what better way to enjoy your favorite style of poker? Daily and nightly tournaments feature No Limit Texas Hold 'Em, and are some of the favorites of gamers in the Rio Poker Room.

Up for a real challenge? Head to intense action of the more than 1,200 slot machines on the Rio's main casino floor. Progressive slots, huge payouts, a spacious and comfortable playing atmosphere, and all the most exciting games on the market: these are just some of the characteristics that define the slots portion of the Rio Suites and Casino in Las Vegas. Challenging, exciting, and heart pounding, the entertainment never stops when you play slots at the Rio.

The table games section of the Rio Suites and Casino will make even the most seasoned gamer a convert to some of the newest and hottest games in Las Vegas. Featuring new favorites like Pai Gow Poker, Let it Ride Poker, and Caribbean Stud Poker, visitors to the Rio can experience the best of innovative new games, while always being able to fall back on Roulette, Craps, and Blackjack for a return to the traditional. With non stop action and tons of exciting game play, there is no telling how long a player can be immersed in the diverse world of table games at the Rio. There are simply so many options and tables that it would take days to get through them all!

Its no wonder then, with all its experience, innovation, and reputation for excellence, that the Rio Suites and Casino features an incredibly advanced Race and Sports Book. Allowing for tons of different betting lines from straight pari-mutuel to more exotic types, you find as much action at the Rio as on the track itself. With sixty individual flat screen monitors to watch all your favorite events as well as twelve 70 inch televisions, six gigantic projection screens, and over twenty 32 inch televisions, there is certainly no shortage of ways to watch and play in the Rio Race and Sports Book.

The Rio has made a name for itself as one of the top Las Vegas hotel and casinos, and continues to maintain this reputation for excellence in accommodation and gaming.